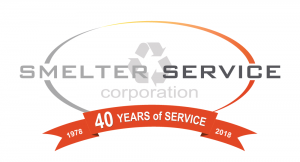 As Smelter Service Corporation celebrates 40 years in business, we know we have a lot to be thankful for!!  Our brilliant SSC Family, the wonderful City of Mount Pleasant, Tennessee and all the residents of Maury County.
Smelter Service had meager beginnings in April 1978, when we incorporated – with just three people on board!  Fast-forward 40 years; we now employee 110+ families, operate 24/7 and have become a lead competitor in the Aluminum Recycling Industry.  In 1998, Smelter Service adopted a Leadership Team based model which continues to lead the company today.
In 1998, Smelter Service introduced the Kids on Stage concept helping to create the Mount Pleasant Middle School of the Visual and Performing Arts.  We know that within our educational system, teaching creativity develops critical thinking skills, engages students and fosters innovation.  We're excited to continue our support of the nation's first Pre-K-14 STEAM Campus right here in Mount Pleasant!
Smelter Service has always valued its relationship with the City of Mount Pleasant.  Dubbed "The Phosphate Capital of the World," Mount Pleasant is a community built on industry and has grown exponentially over the past few years and continues to do so today.
Smelter Service Corporation anticipates a strong future and looks forward to continuing to be involved in our beautiful community. Thank you to our SSC Family, to our Customers, to our Community and to all those who have supported us these past 40 years!!